What is Google My Business?
Google My Business (formerly Google Places) is a free service provided by Google for Business. It lets you create a unified business listing for your business. Once set up, this listing will appear on all Google products, including Google Maps, Google Search, and Google+.
For example, My Business listing appears when a Google prospect searches directly for your business or a related topic, such as your industry in your city. The business listing with address, opening hours, position on a map and ratings will then appear prominently in the search results or right next to it. This section of the Google page is also called Knowledge Panel.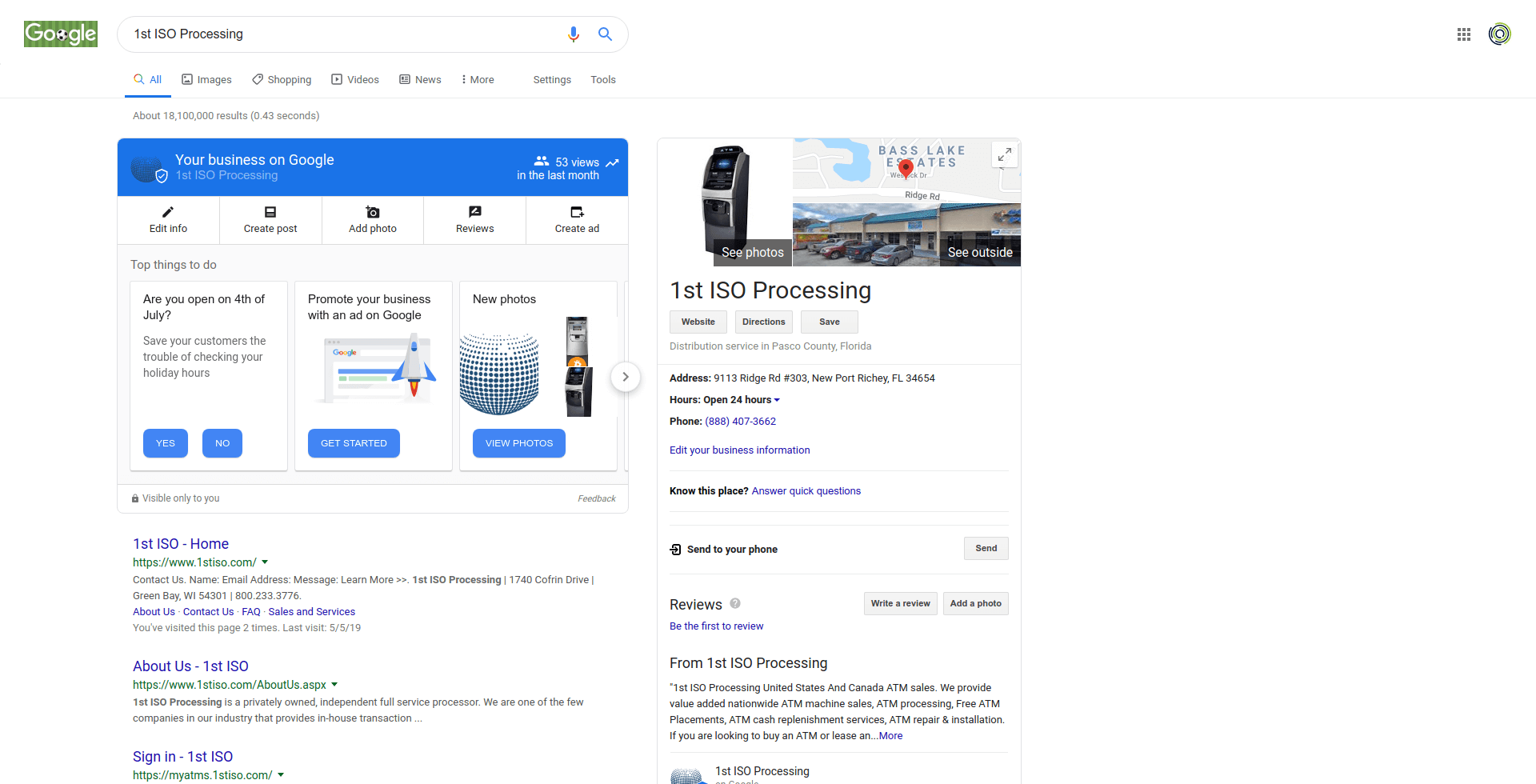 Who can create a Google My Business listing?
Any company with a locally accessible address can re-create a Google business listing or claim and edit an existing listing. All you need is a free Google user account.
It may be that you have a Google My Business entry without your own intervention if you are listed in industry directories. Google works with providers like "Yellow Pages" and "The Local" to create an entry.
If you already have an entry, find out when you log in to Google My Business and try to register your business. If you enter the address or phone number, Google will check if there is already an entry. Of course, you can google for your business.
How do I create a Google My Business listing? A step-by-step guide.
 Go to Google My Business homepage.
 Click on "Start now".
 Now you need to sign in with an existing Google Account or create an account by clicking on "More Options".
 Then enter the basic data such as company name, address, telephone number, and website and click "Next".
 Confirm the company name and address as well as your authorization to make the entry.
 You will then be asked how you want to receive the Verification Verification Code, for example by postcard. You must enter this so that the entry appears in the search results. If you want to continue, you can also click on "confirm later".
 You end up on an overview page for your company entry. There you can see what percentage of the data is missing. Here the entry can also be deleted again.
 Now you can upload photos to your company, specify opening hours and description. Incomplete listings are not displayed. In addition, they can be edited or changed by anyone. Therefore, you should completely edit the information yourself.
How to optimize your Google My Business listing
Whether a business listing appears in Google search results depends on a number of factors, including:
relevance
topicality
Distance to the location of the one who is looking for
The trustworthiness of the company
Keeping these tips in mind increases the likelihood that your business listing will appear on the Google search results page.
Pay attention to a correct address, because this is the basis for the display of the entry in the local search. It is important that the address and all other details are exactly the same as in other business directories (Yellow Pages, The Local, Yelp).
Check if Google has marked your position on Google Maps correctly and correct it if necessary. This is important for a correct navigation.
Always include a correct phone number next to the address. Instead of a hotline or call center number, you should preferably provide a local telephone number.
Enter the correct URL of your website.
Photos are an important factor in making My Business entry more vivid and meaningful. Pictures are usually the first thing the searchers see. That's why you should use attractive images that show different aspects of your business. This can be a logo, indoor and outdoor shots, product photos or pictures of employees. The decision of which images are displayed in the search results, Google alone.
To be more trustworthy, you should motivate customers and partners to rate your business on Google My Business. Reviews have an impact on ranking.
Respond to questions or ask questions yourself and provide answers in the Questions & Answers section. In Settings, you can choose to be notified when new questions arise.
Keep your business listing up to date with Google posts.
What are Google posts?
With Google posts, also called Google Posts, you can present promotions, events or products directly in the Google search index. Google Posts is also great for promoting new blog posts, press releases, or job postings for free.
Examples of Google posts in Google My Business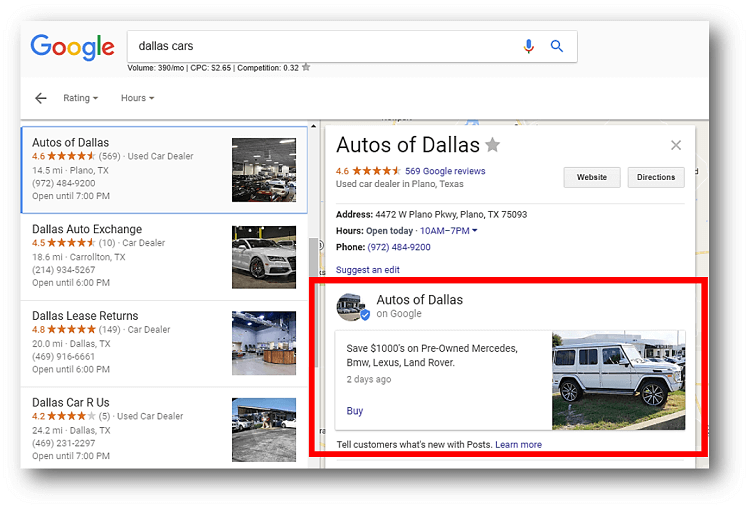 Google posts can be up to 300 words long; the first 100 characters are displayed directly in the business listing. You can and should insert a picture, video or GIF. The ideal image size is 750 x 750 pixels, the most important image content should be placed in the middle.
In addition, you can use a so-called call-to-action button, a button that the user should click on, for example, "More information", "Reserve", "Sign up", "Buy" or "Request offer" and To direct interested parties directly to his website, blog, online shop or another landing page. (Read more: tips and examples for convincing call-to-actions )
To use the feature, you must sign in to your Google My Business account. After that, the function is available in the menu under "Posts" on the left in the menu. Google posts will stay in search results for seven days. After that, they are only visible when someone clicks on a recent post: Older posts then appear below. Dated event contributions expire after the expired date of the event.